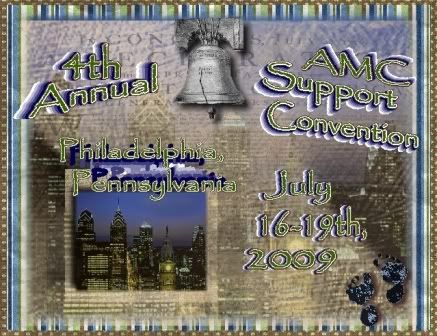 We are so excited to announce to you that registration for the 4th annual Arthrogryposis Multiplex Congenita Support Inc. in Philadelphia, PA is open.
We have a wonderful line up of speakers, and group activities scheduled, including Dr Judith Hall and Luca Patelli, (a.k.a. Lazylegs.)
If you are even thinking of attending please register and you will be sent hotel information. We will be capping this year's rooms at the hotel as space is limited and they are unable to offer more rooms at the discount rate.
We have been working very hard to bring you a great convention!
If you have any questions feel free to E-mail: pa@amcsupport.org
Here is the link:
http://www.amcsupport.org/pa
Target Audience:
The target audience of this convention are parents and caregivers of children with AMC, adults with AMC, physicians, physical therapists, occupational therapists, early interventionists and any others interested in learning more about Arthrogryposis Multiplex Congenita.
Purpose:
The purpose of this convention is to increase awareness of AMC. Expand the knowledge of parents and professionals about this rare disorder. To provide families comfort, support and hope through other parent's journeys and through the encouraging life stories of Adults with Arthrogryposis.
Objectives:
To help children, teens and adults with Arthrogryposis reach their fullest potential through the education of parents, professionals and the public.
Cost to Attend:
This convention is free for anyone but registration is required!
Convention Preview

AMCSI is honored to announce the attendance of
Dr. Judith Hall.
One of the leading medical researchers in the field of Arthrogryposis Research.

Luca "Lazylegz" Patuelli
,
http://www.lazylegz.com/content/view/6/6/lang,en/
Luca's crutches are used in the same way as shoes; ''they are more of an accessory than a necessity''. His disability never stopped him from accomplishing what doctors and most people considered impossible and according to Luca, it has helped him become the man he is today.
Thursday 7/16
Tentative Family Outing to Sesame Place
Medical Professionals Meeting *
*Limited time constraints of medical professionals in attendance prevents AMCSI from requesting they provide personal or one on one consults with attendees.
Friday 7/17
Family Medical Related Meetings
Talent Night for AMC'ers
We are hoping to have a panel discussion for parents, teens ready for college, and those who have launched off to college to share experiences talk about decision making processes and things that they needed to consider in the process.
Annual Events
Painting with Theresa
AMC Teen Workshop
AMC Adult Workshop
Sibling Workshop
Hopes & Dreams
Arthrogryposis Multiplex Congenita Support Inc, BOD Public Meeting
The AMCSI Board of Directors will not ask the speakers, presenters, or vendors attending our 4th Annual AMCSupport Convention to provide one-on-one meetings, consultations, or any other specific medical recommendations to you, your child, or your family. Furthermore, any and all medical information, therapeutic techniques, etc., obtained while in attendance should promptly be consulted with your/your child's physician prior to any form of implementation. We will not be responsible for ANY medical advice provided to you while at our convention or the result thereof. Any and all of our AMC Support Conventions are strictly a gathering for educational and recreational purposes until stated otherwise.